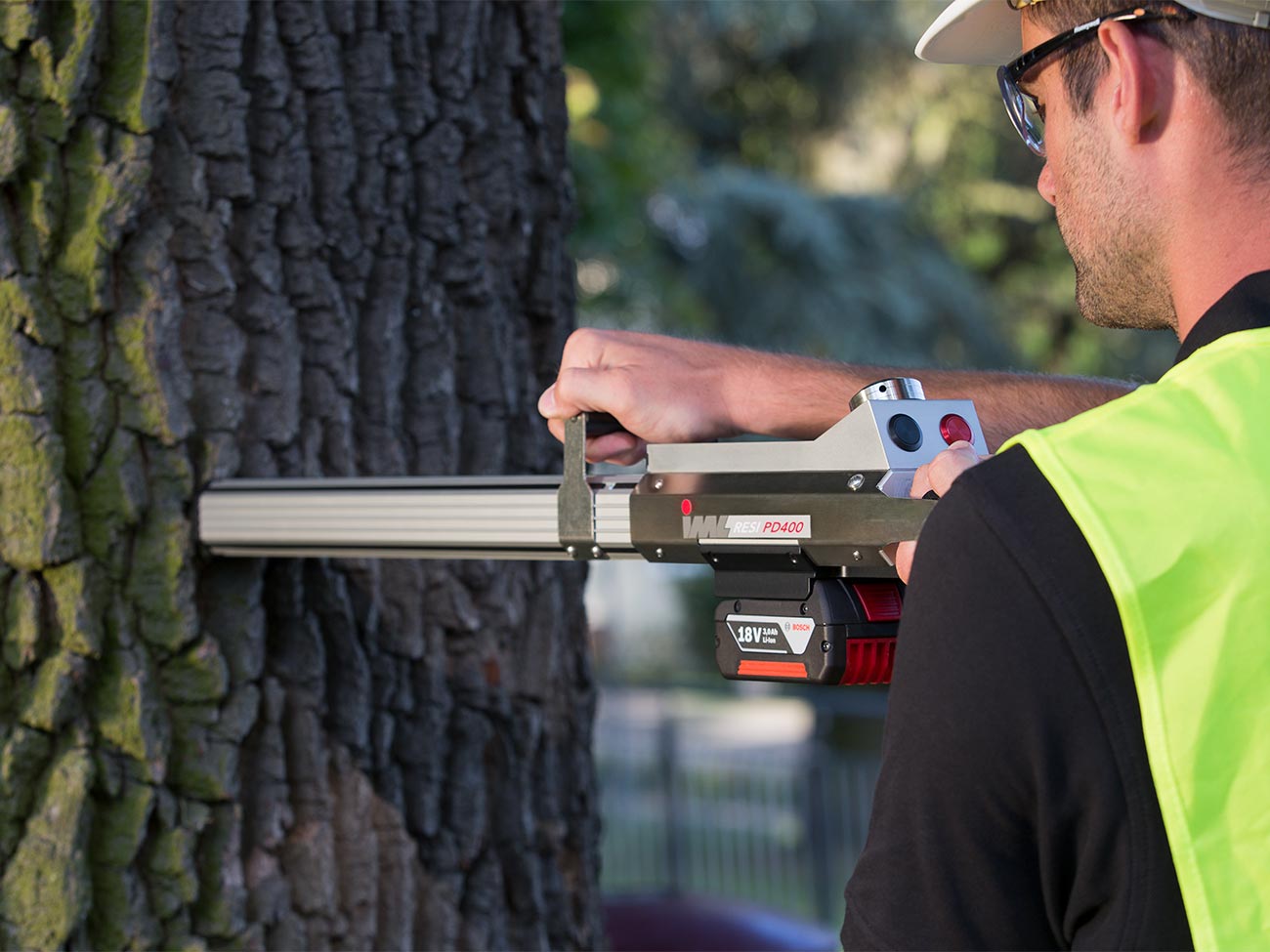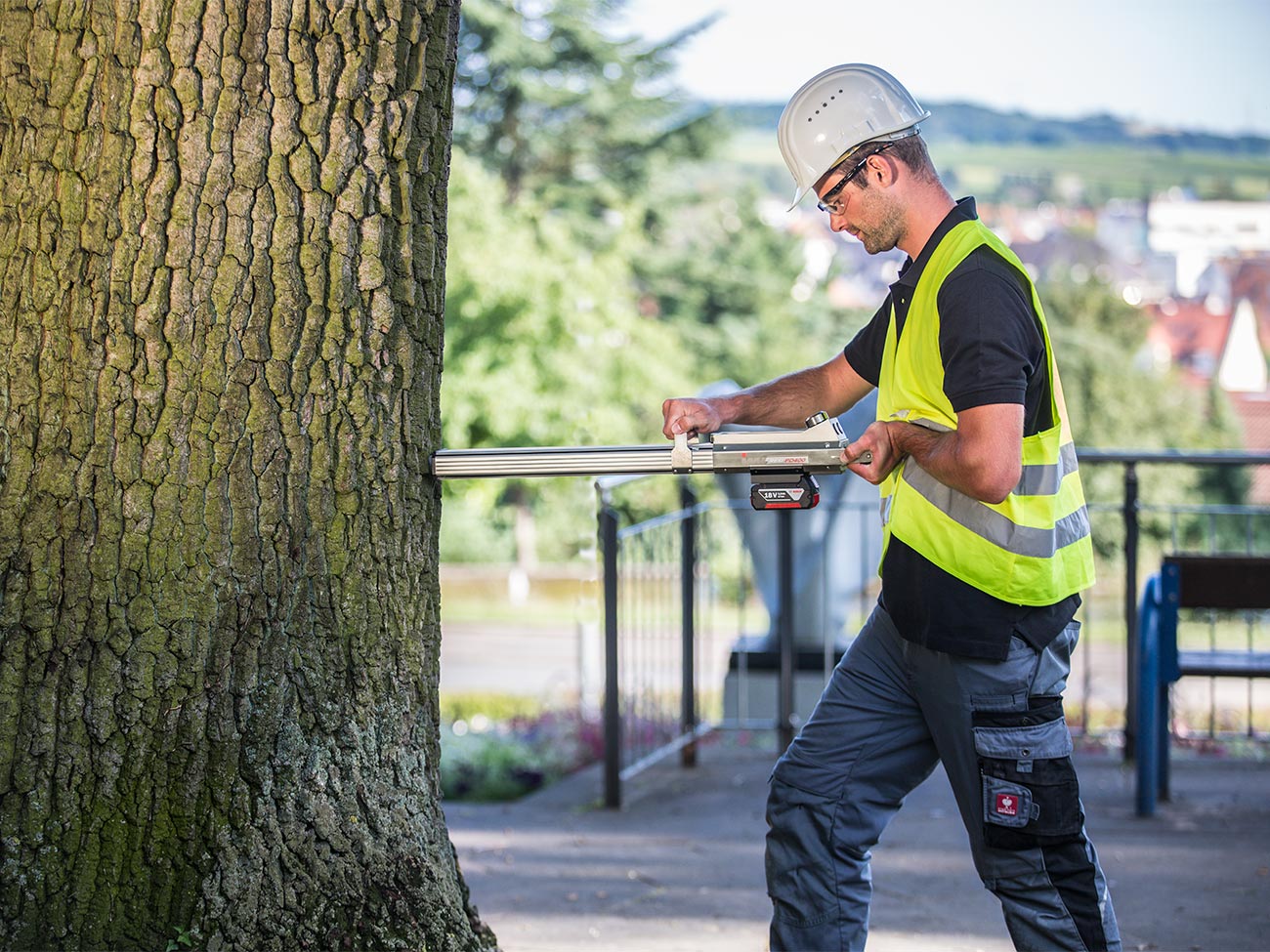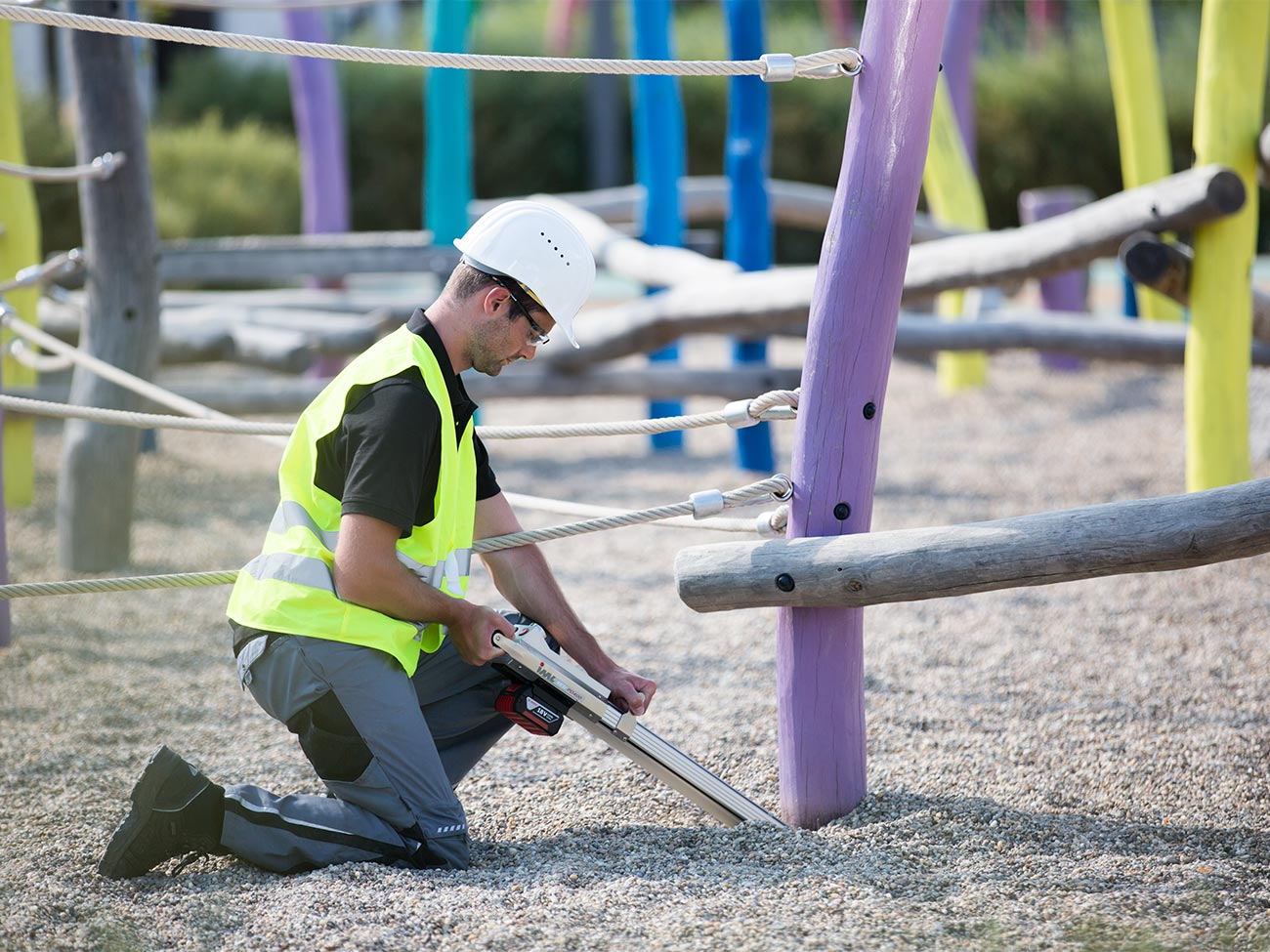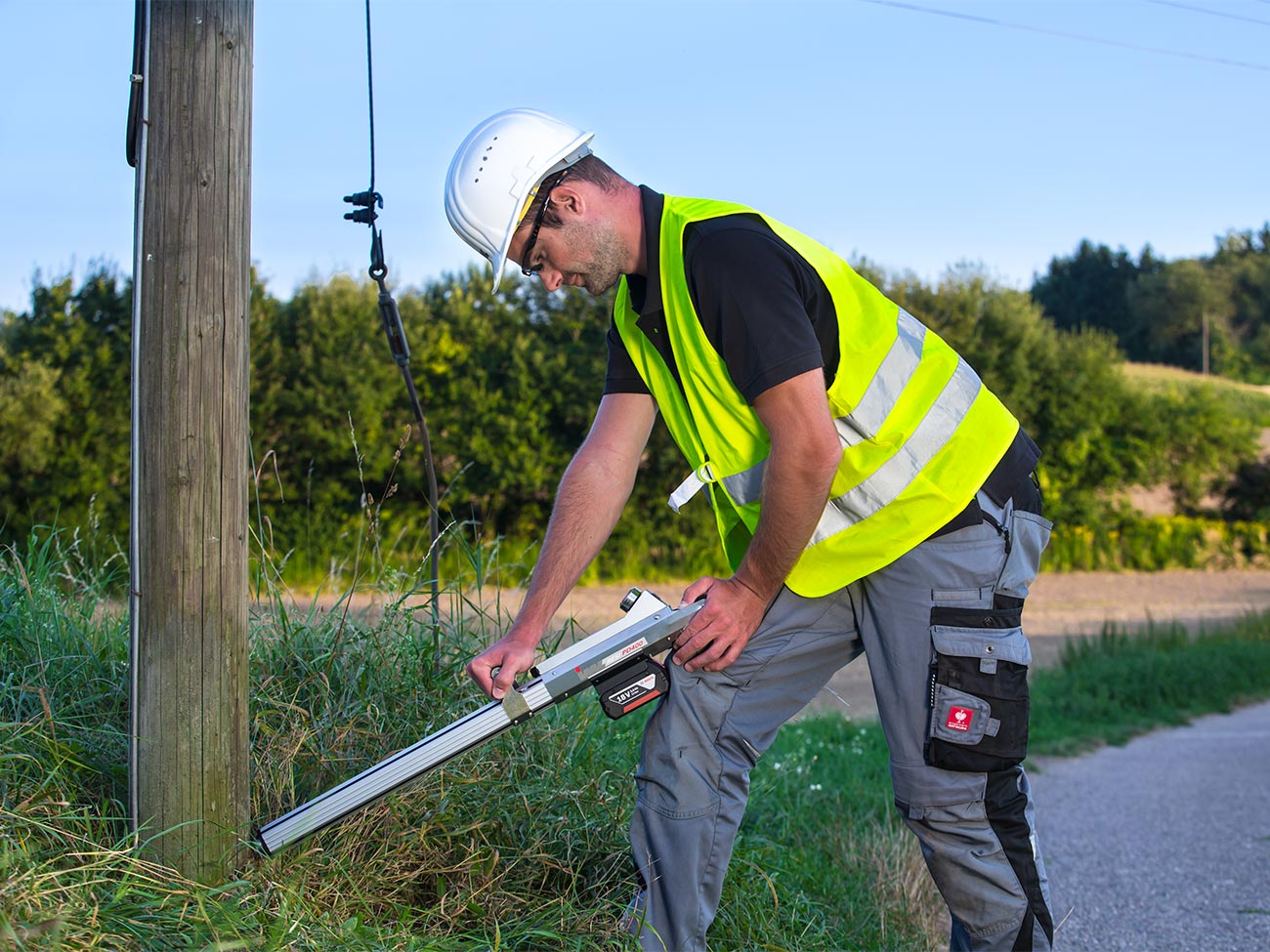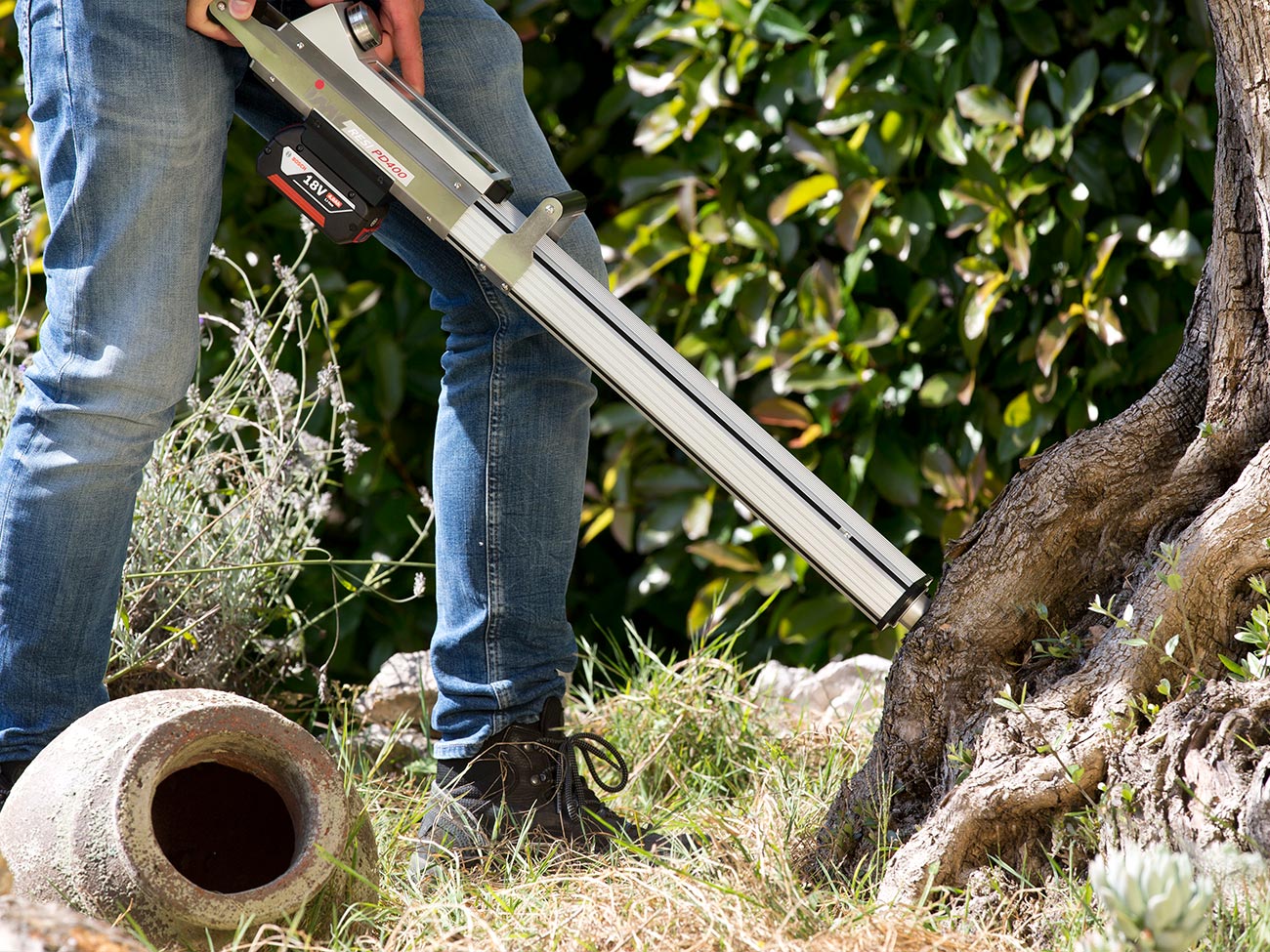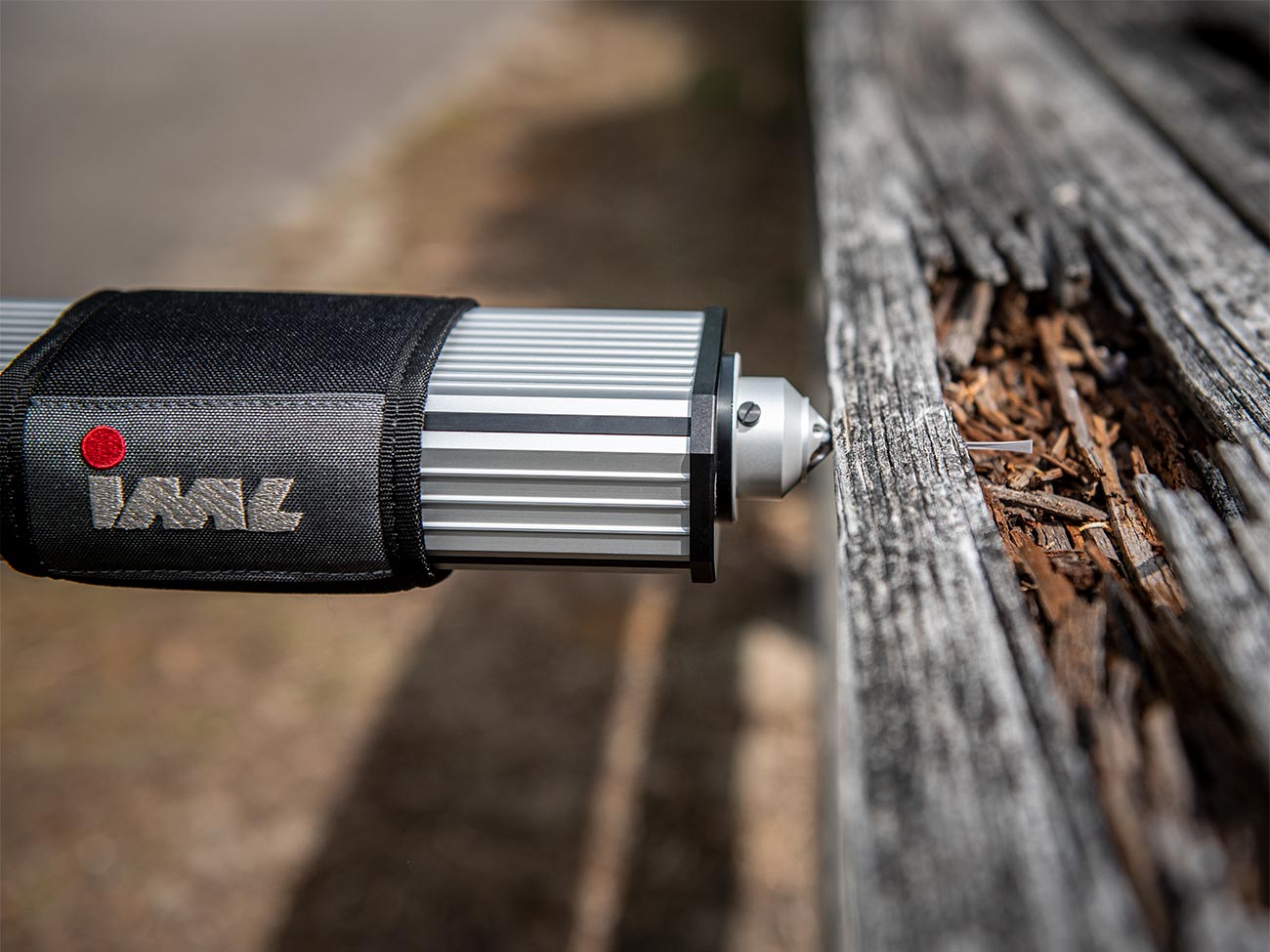 IML-RESI PowerDrill ®
5.380,00 €
Plus 19% VAT
Delivery Time: ca. 2-3 workdays
The IML PowerDrill® is equipped with an electronic unit that gives clear support in taking, documenting and evaluating measurements. It can be used wherever reliable and meaningful measurements are required.
Callback service
Callback Service
You have questions?
Description
Application areas
Tree care and inspection to maintain safe parks, roadways and forests
Check the stability of utility poles
Diagnose decay in wooden playground equipment as required by law
Inspect structural wood in timbered houses, bridges and buildings on stilts for vulnerabilities and safety risks
Product features
Comfortable with clear display
Easy, fast and digital recording of the measurement data
Fatigue-free operation due to the ergonomic design and low overall weight
High drilling performance with minimum power consumption
Rugged and splashproof aluminium housing
Simultaneous recording of drilling resistance and feed cam for better decay detection
Automatic curve evaluation for utility poles and wooden playground equipment
Drilling depth from 200 mm up to 1000 mm
Optional add-ons
The IML-RESI PD-Series can be expanded and customised with additional modules and options.
Increase memory to 50, 100 or 180 metres of measured curves
Record feed curve
Tilt sensor
Needle Breakage Detection
Scaling package
Access control
Remote control interface
WoodInspector for automatic curve evaluation for timber poles
Additional handle and shoulder strap
Bluetooth printer to print measurements on-site wirelessly
show less
Scope of delivery
Measuring device PD with a mounted drilling needle
Handle
25m standard memory
Quiver with 10 drilling needles
220V charger Li-Ion 18V
2x Premium Li-Ion batteries 18V 5.0 Ah
Mini USB 2.0 data transfer cable
Interchangeable drill chuck with tool
Combination pliers
System transport case
IML Software Center PD Tools (incl. 3 installation licenses)
Instruction manual
FAQ
Frequently asked questions about

"

before buying

"

This highly depends on the carefulness of the operator when inspecting where to conduct drillings. You want to avoid any nails or metal plates in any wood products as much as possible to preserve the bit. You will also need to be careful and aware of what type of substance the needle will exit through whether it's sand, soil, granite or etc.

With the IML-RESI PD-series, you can perform approx. 200 measurements per battery charge (battery: 18 V, 5.0 Ah). With the IML-RESI F series, you can perform approx. 50 measurements per battery charge (battery: 18 V, 4.0 Ah).

The drills are approximately 5-7 kg depending on the size of the drill. We always recommend anyone purchasing a drill to opt-in for the handle and stability strap. When you are conducting inspections on an all-day basis it's safer, secure and ergonomic to have the drill strapped to you to reduce any damages that may incur.

One of the best features of our drills, especially for arborists working in the field of inspecting live trees, is the fill-in methods of the bits. Our bits are 3mm and while they are already small in size, when the needle retracts it pulls the wood back in to fill the hole. Immediately after you would not be able to stick the bit fully back in the hole that was drilled. As time goes on the tree seals the hole.

Yes, the drill can inspect when it is in freezing weather. However, decay can also freeze and show a higher resistance than above freezing. However, you can still detect decay with the change in the resistance if the decay is frozen.

The standard inspection drills are water resistant, not waterproof. You will want to treat the drill as you would your smart phone of other electronic devices that are water resistant.

The wood inspection software can provide automatic results for pole inspections and detailed measurement activity for wood products. These can be uploaded to three different devices per license.

Yes, we conduct a first short training via telephone or video call after you have bought a drill. You can also attend to one of our seminars. You can find more information at IML Seminars.

Our wood inspection drills are commonly used as a reinforcement for the VTA for tree inspections. The resistance drill is a favorite for arborists and tree specialists because it provides data on the internal state of the wood. A tree specialist is able to show measurements backing up their conclusion to save or remove a tree using the data collected from the resistance drills. They get this by drilling into any area of the tree including the trunk, branches or roots.

Many customers use the drill for pole inspections by conducting three drillings on the pole. First to determine the diameter for the WoodInspector software, second drilling into the base of the pole at an angle of about 30 degrees and then another drilling perpendicular to this at the base of the pole. This way the inspections are calculating the data below ground where there is a higher chance of decay. The WoodInspector software provides instant results of the drilling by determining if the pole is a pass, marginal or fail.

With the WoodInspector- software you will get a direct condition assessment of the wooden pole right after performing the measurements. Here, individually specified rot and cavity limit values of the timber branch to be inspected are included as criteria for the evaluation. To view more details visit the WoodInspector page.

The PD- and F-Series are available in different versions. The MD-Series is only available in one drilling depth.
IML-RESI PowerDrill-Series: 200mm – 1000mm
IML-RESI F-Series: 300mm – 500mm
IML-RESI MD-Series: 300m
The wood inspection drill measures the force of the needle turning through the wood product. For example, when the bit hits any soft decay the force on the graph will drop and if the needle hits a hard, brittle decay the graph will spike. If the bit runs through a cavity area the graph will drop measuring no resistance for the bit. The measurements are then collected on either a wax paper strip (F-Series) or electronically recorded for an instant upload (PD-Series).
With the F-Series drill the measurements are recorded on a wax paper strip. Typically users scan the wax paper strip into their report reinforcing their assessment of the wood. The PD-Series drill records the measurements automatically in digital form and can instantly upload these results to your computer via Bluetooth or USB cable. Software is available for your computer to analyze and organize your collected results.
All additional modules can also be retrofitted to your device. Either at our service centre or conveniently at your home with an activation code generated by us.
Press the device against the object to be tested. When the safety button is pressed, press the red and black button simultaneously. The tilt indicator in the display now lights up green and the REL symbol appears in the upper right corner. The current unit orientation has thus been selected as reference plane 0°. To switch off the real time mode, return the unit to its original position and press the safety switch and the two buttons again, or switch the unit off and on again.
Press the red button for a long time > Tilt compensation: ON
Now the tilt compensation is switched on. If the drilling depth preselection is switched on, the machine will select the actual drilling depth according to the set diameter/radius and the current tilt angle. ! The TLT add-on module is required for this!
It is possible to choose between several drilling needle speeds in the Advanced View, equal to the feed rate
System Controls > Drilling Needle Speed > Mode: Advanced
The different steps can also be individually assigned different speeds.
Product information
Device
Drill Depth
Weight
(with Battery)

Length
Weight
with case
Measurements of case
Shipping weight
PD200
20cm
4,4 (5,0) Kg
70cm
13,5Kg
75 x 38 x 12cm
approx. 16Kg
PD300
30cm
4,4 (5,0) Kg
70cm
13,5Kg
75 x 38 x 12cm
approx. 16Kg
PD400
40cm
4,9 (5,5) Kg
80cm
14,0Kg
86 x 36 x 12cm
approx. 16Kg
PD500
50cm
5,4 (6,0) Kg
98cm
14,6Kg
103 x 36 x 12cm
approx. 18Kg
PD600
60cm
5,8 (6,4) Kg
108cm
15,0Kg
113 x 36 x 12cm
approx. 19Kg
PD750
75cm
6,4 (7,0) Kg
123cm
15,6Kg
129 x 36 x 12cm
approx. 20Kg
PD1000
100cm
7,85 (8,45) Kg
152cm
23,0Kg
160 x 36 x 17cm
approx. 24Kg
Customs tariff number: 90248000
Recommended accessories

Shoulder strap with 2 snap hooks and 2 sturdy eyelets on the instrument.

Transport Bag for IML-RESI PD-Series with practical side pockets for batteries, pliers and quiver.

Additional Bluetooth printer for printout of measurements at scale 1:1. The printer uses thermo paper rolls with a width of 72 mm. Automatic printout after performing a measurement and subsequent printout of an arbitrary measurement. If the scaling package (SCL) has been installed, the amplitude can be scaled automatically or manually.